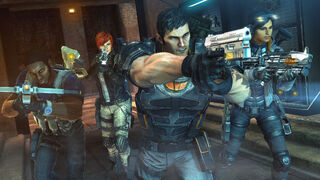 Overstrike 9 is an elite contact team made up of four operatives: Dalton Brooks, Jacob Kimble, Naya Deveraux, and Isabelle Sinclair
Overstrike 9 is the group governments hire when plausible deniability becomes an issue. The agents are also tasked with keeping Hyperion a secret from other government branches.
There maybe more Overstrike teams than just the one featured in Fuse. During the inter-mission for the Grigori Station, Oculus briefly mentions Overstrike 7.