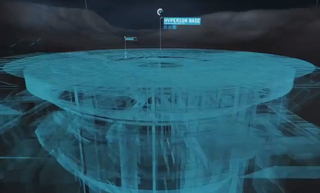 Hyperion Base, located in Groom Lake, Nevada, is an underground government research facility hidden deep in the Nevada desert. Little is known about what is studied there, but recent budgetary reports from the Senate Armed Services Committee list it as a proving ground for clean energy experiments.
Overstrike 9 is sent on their first mission of the game to keep the contents of the facility a secret. When they arrive, they find it ransacked as well as discovering strange devices and failed experiments.
Fuse is stored at Hyperion and is the target of Raven. Overstrike 9 and Raven are racing to get to the source of Fuse.